The Elart Swiss gallery in Lausanne is pleased to present a selection of works by Swiss sculptor Jacques Basler. Born in Lausanne, the artist lives in Rue in the canton of Fribourg. Although he works mainly in his studio in Rue, he has been collaborating since 1988 with the famous Italian foundry F.Lli Da Prato in Tuscany.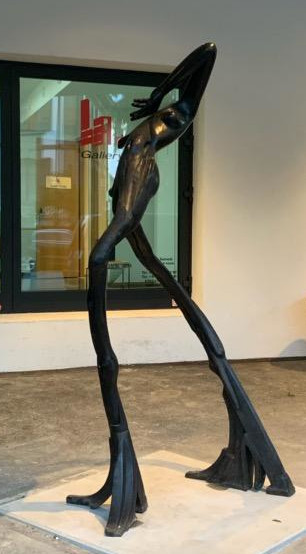 With Face au vent, Jacques Basler wanted to work the material by stretching it upwards. The one and a half metre long sculpture shows a character facing the elements – enduring them but nevertheless resisting them, strong despite his extreme thinness. His long legs give an impression of grandeur while evoking the roots of an oak tree, anchoring the tree firmly in the ground. Stretched out towards the sky, this spindly figure is undeniably reminiscent of the figures of the famous artist Alberto Giacometti.
The audience is gripped by a paradoxical impression when looking at the work. The fear that the figure will fly away in the face of the wind and the violent elements of nature is followed by the certainty that nothing will ever be able to bring him to the ground or hinder his progress.
When contemplating the works of Jacques Basler, the choice of bronze as the material of choice seems obvious. Indeed, this alloy of copper and tin, used in sculpture since ancient times, is both extremely malleable and very resistant. And so it seems to be with Jacques Basler's works, combining flexibility and stubbornness, fragility and strength, curves and sharp angles. For example, in Face au Vent, the material seems to have been stretched to its breaking point, one would almost expect it to break like a glass thread. But at the same time, it remains firmly anchored, full of strength, stubbornly resistant.
"When I start a sculpture, I always start with an idea, but halfway through, chance takes over. Regardless of its size, it is always the sculpture that guides me, it is the boss."

Jacques Basler, interview by Jeff Gianodda
With Emmène-moi, Miroir and l'Idylle, Jacques Basler explores the theme of the intertwining of bodies. His characters, always stretched out, are partly absent, presenting bodies with holes, fragments and missing limbs. But behind their effacement remains the strength that binds them.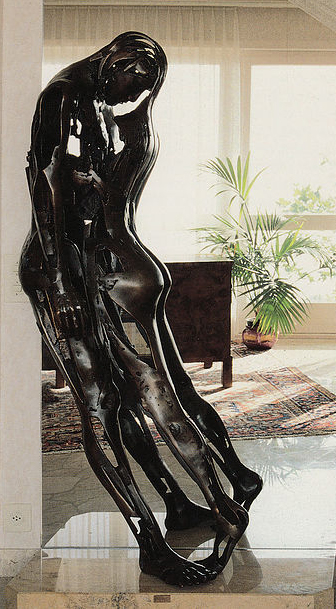 In Miroir, a bronze by a mother of sixty, the reflection is an integral part of the work. Without the optical effect provided by the mirror, it would be difficult to perceive the tenderly embracing couple beneath the raw material.
The public will also have the chance to discover Féminité II, a sixty-one centimetre bust of a woman with barely sketched but unmistakably feminine curves, as well as the mysterious and slender Intimité.
In order to schedule your visit, do not hesitate to contact the gallery at +41213110406