Permanent exhibition 
Visit on request.
The artist chose to use bronze, a noble material that has been used since time immemorial to make jewelry. It is malleable and resistant enough to allow the piece to take the desired shape, and also to resist harsh climatic conditions during outdoor exposures. With « Face au vent »Jacques Basler wanted to work on the material by stretching it upwards. The sculpture is one meter sixty. A character seems to be facing the elements. Its long legs give an impression of grandeur and evoke the roots of an oak tree that firmly anchors it in the ground. Stretching towards the sky, this slender character undeniably reminds us of the characters of the very famous artist Alberto Giacometti. Jacques Basler's sculpture is large, and of a life-size scale of one on one, but his character is extremely thin.
The viewer is struck by a strange impression when looking at the piece, a sudden fear that the character will fly away in the wind, into the violent elements of nature.
Jacques Basler also presents a second piece at the gallery. « Miroir » is also a bronze measuring one meter sixty. The centerpiece of the work of art is reflected through a subtle play of mirrors. The sculptor uses an optical effect to give the impression that the couple is embracing each other. Without the clever use of a mirror, only the raw material would be visible. There lies all the genius of the artist who transports us through his works into another world, into a secret dreamlike universe which he invites us to visit in his company.
In "Emmène-moi" a bronze of ninety-three centimeters, The sculptor reproduces an embracing of bodies, as for the "Miroir".
The public will also have the opportunity to discover "Feminité II", a woman's bust of sixty-one centimeters. There stands out all the genius of the artist who transports us through his works in another world, in a dreamlike universe which he has the secret, and invites us to visit with him.
In order to schedule your visit, do not hesitate to contact the gallery at +41213110406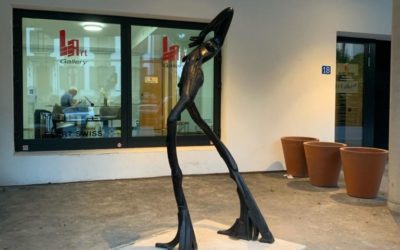 Bronze sculpture H 220 cm 3/8 Prix: sur demande. For M0re information: BackSimiliar productsContact formElart Swiss Gallery Chemin de Beau-Rivage 18 1006 Lausanne Switzerland Elart Swiss (administration) Chemin de la Canelaz 14 1090 La Croix sur Lutry  SwitzerlandTel...
read more